Always Plumbing & Heating
Smart digital marketing helps put 5 new service trucks on the road
---
Always Plumbing & Heating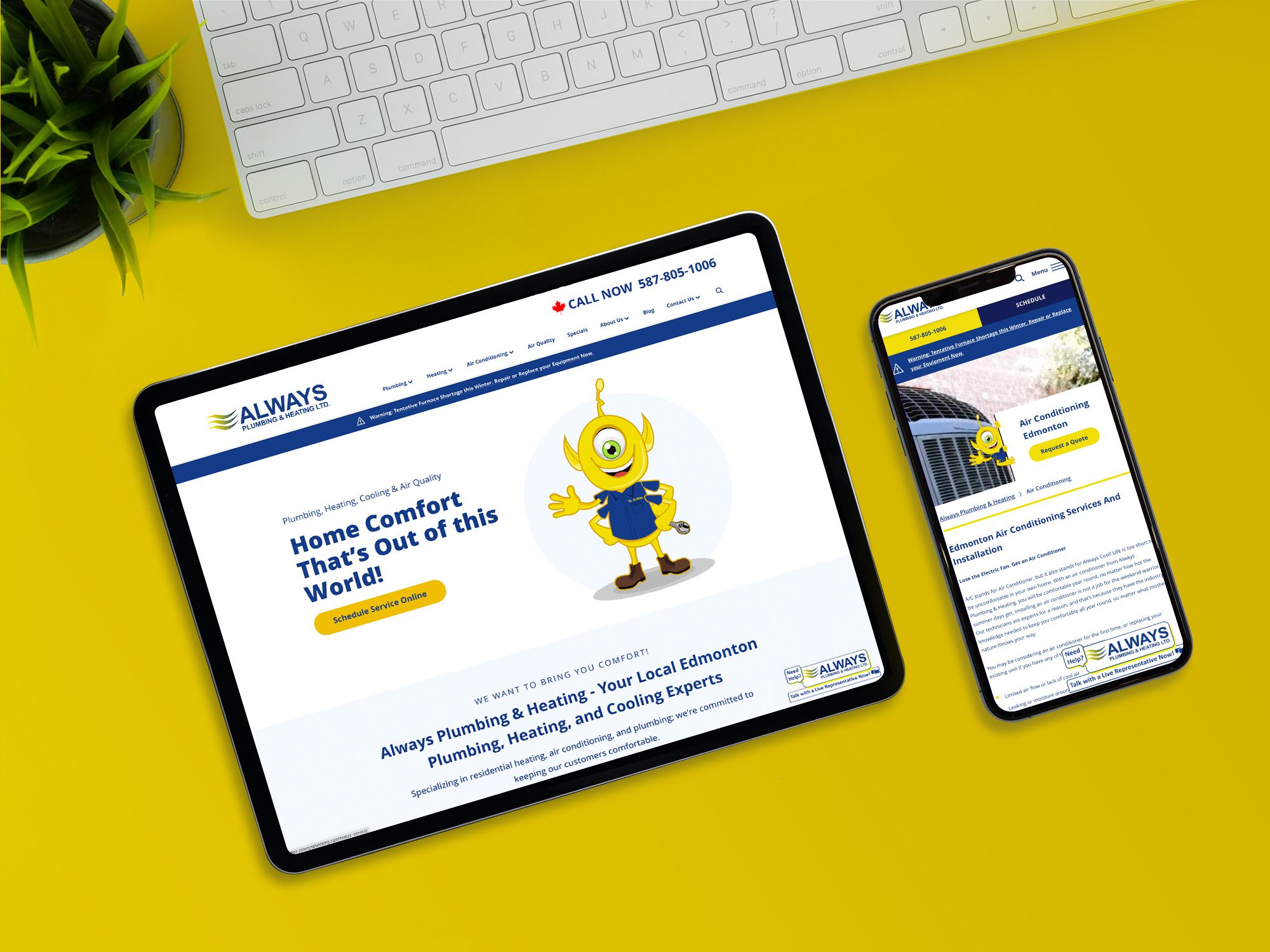 Challenge
Amplifying leads to drive success
Always Plumbing and Heating came to us with two goals in mind. First, they were already running Google Ads, but they wanted to improve their performance to attract new qualified customers.
Secondly, they wanted to increase organic traffic and leads to their website. Since 2018, we've been their trusted digital marketing partner, playing a key role in their strategic decisions and growth.
Solution
Delving into the data
Our first step was to fully understand the current state of Always Plumbing & Heating's digital marketing.
We gathered insights about their audience, competition, and analytics. After setting up tracking for form fills and phone calls, we now regularly analyze the data from their Google Analytics dashboard to measure the right metrics for success.
Optimizing SEO for more traffic
Search engine optimization has always been an essential tactic for driving growth on the Always Plumbing & Heating website.
With our conversion rate optimization (CRO) audits, we improve their website's user experience. This involves streamlining the navigation, page layout, and design to help users find the right information.
To align with Google's new Core Web Vitals, we regularly enhance the website's technical SEO. Load speed is a top indicator for search rankings, so we consistently optimize how fast the site performs.
Improving and managing Google Ads
Google Ads are a huge lead generator for Always Plumbing & Heating. Through our ongoing work, we optimize their search and display ads with better keyword targeting and A/B tests. This allows us to reduce spending and improve conversions.
Always Plumbing & Heating experiences seasonal demand for their services, so our digital advertising always aligns with their marketing cycles. Whether it's sump pumps in the spring or furnaces in the winter, we keep our online promotions in tune with their radio and print ads.
Boosting brand awareness with blogs 
Blogs drive significant organic traffic on the website.
With well-researched topics and SEO-friendly content, our posts answer questions that their customers are asking. This helps us position Always Plumbing & Heating as a thought leader in their industry. We also mark up the blogs with advanced SEO schema to improve their search rankings.
Impact
+5 new service trucks on the road
87% year-over-year increase in organic website sessions
123% YoY increase in paid search leads
6.4% YoY increase in ad spend
52% YoY decrease in cost per lead
Testimonial
"We have grown our number of technicians by 23% over the past 2 years. Top Draw's digital marketing efforts have helped catapult our brand across all platforms in the digital marketing world. From increasing our number of SEO leads by optimizing our website and its performance, as well as careful, coordinated effort in regards to PPC ads, our company has experienced growth even during the years of a pandemic. Our account managers have been responsive to our needs, and dedicated to our brand messaging and putting it forward across digital marketing channels."

—Sara Davis, Marketing Director, Always Plumbing & Heating
Results
Steady and reliable growth
Over the years, our work has brought Always Plumbing & Heating consistent increases in quality traffic and leads.
With a problem-solving mindset, we focus on meeting their goals and connecting with their audience. Our strategic digital marketing approach brings them value by attracting new customers and encouraging them to convert.