How to Build a Killer Website & Win Over Your Audience with 8760
In our increasingly digital world, connection is becoming more and more crucial. It's no longer enough to talk about yourself. You need to make your customer the hero of your brand. Do you understand what makes them tick? Can you solve their problems?
With the launch of a sharp and SEO-driven website, our client 8760 has created more powerful connections with their target audience. Whether it's utilities or credit cards, expense management is complicated enough as is—but 8760 makes it simple! Structuring your website in a way that conveys your company's mission and purpose lets your audience know that they come first.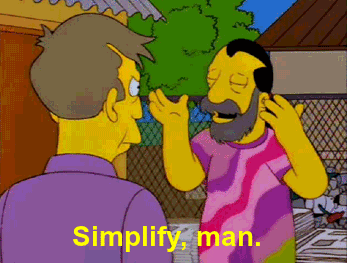 So, dive in and read on to find out how you can make your audience the hero of your website like 8760.
#1: Create the Most Valuable Proposition
A well-defined value proposition sets you apart from the competition. 8760 nailed that on their website. With the tagline, "Making the complex simple", they restructured their content around why they do what they do, not what they do.
Your target audience needs to know how your business can fulfill their needs unlike any competitor can. From your headlines to your calls-to-action, your website should be a compelling pitch for what experience you promise to your clients. This will motivate your audience to engage with your website, connect with you, and become a converted customer.
You both win when clients feel they can trust you.
#2: Shout Your Brand Voice from the Rooftops
If your business was a human being, would your customers want to be friends with you? Defining your brand voice is a smart way to find out. It comes down to thinking about your company's goals and how you want to communicate them to your audience.
Sorting out the "do's" and "don'ts" of your brand voice allows you to shape your website content around your target audience's needs. One of 8760's goals was to make expense management clear and straightforward for their clients. For brand voice "do's", it was important to write their website content in plain and everyday language. But, when it came to "don'ts", they avoided oversimplifying concepts. Otherwise, they might have left out critical information or come off as "talking down".
Your messaging should reflect your brand promise. What makes you unique? How do you solve your customers' struggles? With the brand promise, "We win when our customers win", 8760 is passionate about making expense management accessible and engaging, so their website messaging revolved around their customer-centric approach. Their content all drove toward connecting with their target audience. 
#3: Build an Intuitive Website Experience
8760 has upgraded their audience's digital experience in two main ways:
Redesigning their website to have a more intuitive look and feel
Boosting their search engine optimization (SEO) efforts
SEO isn't just about creating a more "crawlable" landscape for Google to improve your rankings. It's about reaching the right audience with the right information in the right way. SEO professionals are constantly evolving their approach by harnessing insights about their target audience to create a better experience.
To design an SEO-friendly website, you have to know where your audience is looking, what they are looking for, and how they are looking for it. No one wants to use a website that's full of broken links or that sends you in circles.
8760's new online address offers a seamless and simplified experience, which is what their brand promises for their expense management clients. Now, they're generating more leads while also maintaining the strong customer relationships that they've already built.
Looking to Build a Compelling Website that Converts?
That's exactly what we do best. Our website designs make a remarkable first impression while driving clicks, leads, and conversions. Schedule a free consultation with our digital marketing experts today.