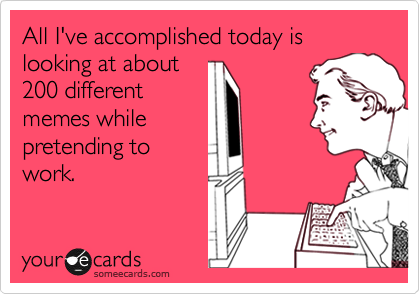 Now, you don't need to get your blanket and favorite stuffed animal out – this story isn't as terrifyingly scary as I am making it out to be. Well, actually, it was…
Let me explain.
A few moons ago, I was working in, what felt like, the exact situation I detailed above. And let me tell you, boy was it stressful. Not only did I think about work when I was at work, but I thought about it at home too. I often found myself checking on accounts when I got home from work and during the weekends. I stupidly blurred the lines of work and home, but could you blame me? I had over 60 PPC & Google + accounts (along with some reporting) and if something went wrong, of course it was always my fault; I didn't have anyone helping me that I could point the finger to =P.  What's a girl to do? After being there for almost a year, I figured out the answer: find a new workplace that will elevate my career, not supress it by making me hate what I do.
Why am I telling you about this? Well, much like the tons of data we analyze here at Top Draw, you need to know what happened in the past to fully understand the present/future. Basically, you need something to compare the present with.
To illustrate my new life at Top Draw, I need your participation. Stand up (if you're not stood up already) and do a 180 degree turn (turn around to see what's behind you). Look how what was behind you is somewhat familiar but SO MUCH different than what was in front of you, but in a refreshing way. That's how I feel about being at Top Draw.
Working here has opened my eyes to how an employee should be treated. On my first day here, I was given a tour of the office and I saw nothing but smiling faces. When I got to my desk, a gift bag was waiting for me with a card – a present for little ol' me? Yep! I got settled in and I had my first daily huddle where everyone goes over what they did yesterday and what they intend to finish today, which is always ended with the company mantra "For the Win." Why do we say that? Because that's what we do – we win – personally, professionally and for our clients too.  Right after the huddle, I was whisked away to a restaurant down the street for a welcome lunch! I know, it's pretty unbelievable, but believe it because it actually happened.
When it comes to the people I work with, I don't think I could be any happier. I get to work with some of the brightest minds in Edmonton and I am constantly reminded of that fact. We may all have our own tasks to do, but we're truly a team, even a family, if you like. If I need help, no one hesitates to jump in and help me right away. The icing on this already sweet cake is that they never shy away from congratulating you on a job well done, whether it is one on one or in front of the entire team during the daily huddle. Finally, I can walk into the office kitchen and walk out knowing more about PPC/SEO simply because of a casual conversation that ignited out of nowhere.
As if I haven't gushed enough, I didn't think I could fall in love with what I do every morning, but I have! The workload here is smaller but I am welcoming it with open arms as I finally get to focus on the client versus focusing on the million fires I need to put out. No two days are the same, which is so very exciting. I get to explore a different skill set each day, and I get nothing but patience from everyone involved as I figure it out.
It's only been a month, but it's been an amazing month. I truly cannot wait to see what the future holds for me at Top Draw. This team is worth all the money in the world…
Contact Us